Radiant Flooring
In-floor radiant heating is an amazing heating system that is actually placed underneath tile or wood which will warm up the surface during the winter months here in Sparta. By using hot water tubes or electric wires underneath the floor, we are bale to supply warmth to the entire surface of your floor. Electric radiant systems utilize zigzagging loops of resistance wire that heat up, resulting in a warm floor. The hot water hydronic system takes water from a boiler or water heater and pumps the hot water through loops of 1/2 inch polyethylene tubing, resulting in a warm floor. These flexible tubes can be installed in grooved panels or snap-in grids, with the flooring material installed over the top or it can be embedded in concrete. Because of the heating elements at play, we do not recommend carpet floors over the top of these heating systems. We do recommend hardwood floors and tile for the best results.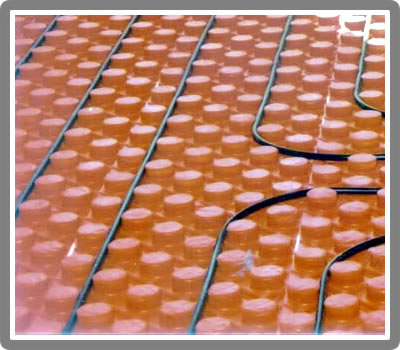 ---
Advantages of In-Floor Radiant Heating
Radiant floor heating not only keeps your feet warm, but it will also ensure that your entire body is keep comfortable throughout the winter here in Sparta. The infrared waves rise from the floor and heat the entire room. The conventional way of heating do not heat from the ground up, so they can heat the room, but the floor is never warm. Give us a call to discuss the options available.