Radiant Flooring
In-floor radiant heating is a heating system placed underneath tile or wood to warm up the surface during cooler months. The warmth is supplied by hot water tubes or electric wires buried underneath the floor. As the waves of thermal radiation rise from below, they warm up the floor. There are typically two basic ways used for radiant floor heating, electric radiant and hot water hydronic systems. An electric radiant system uses zigzagging loops of resistance wire. The hot water hydronic system circulates water from a boiler or water heater through loops of 1/2–inch polyethylene tubing to warm the surface. The flexible tubes can be installed on top of the subfloor in grooved panels or snap-in grids, then the flooring material is installed over the top or it can be embedded in concrete. The floor finishes included hardwood floors and tile. Carpeting is normally not recommended.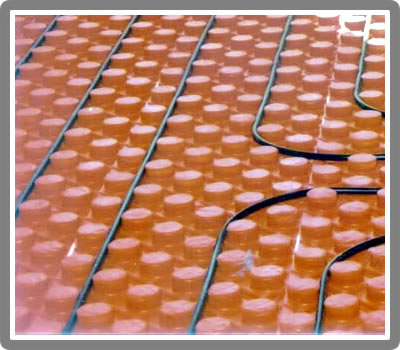 ---
Advantages of In-Floor Radiant Heating
Radiant floor heating keeps your feet warm, but also ensures the rest of your body will be kept comfortable as well. With the waves of infrared radiation raising from the floor it also warms the entire room. A conventional forced air system rises to the ceiling and drops back down as temperatures lower, so floors are not always warm. Give us a call to discuss the options available.
---
In-Floor Radiant Heating Installation and Service
Some of the cities for Air Purifier Installation and Services include Bangor, Galesville, Holmen, La Crosse, Onalaska, Sparta, Tomah, Viroqua, West Salem and La Crescent MN.